Best Web Designing Institute in Delhi
Best Web Designing Institute in Delhi where we teach
practical knowledge to make client website
Web Designing Course in Delhi With Placement
Best Web Designing Institute in Delhi
Professional courses–PPCW
Pickles Professional Course in Web Designing
Are you interested in pursuing a career in web design? A web designing course can provide you with the knowledge and skills needed to excel in this field. If you're specifically looking for a web designing course in Delhi that offers placement assistance, then you're in luck! Delhi is home to several reputable institutions that offer Web Designing Course in Delhi with placement opportunities. In this article, we'll explore the benefits of such a course and guide you toward finding the right one for you. In today's digital era, where online presence is crucial for any business, the demand for skilled web designers is on the rise. Aspiring professionals in the field of web design are constantly seeking the best avenues to kickstart their careers. This article explores the world of web designing course placements, shedding light on the significance of such programs and providing insights into how they can pave the way for a successful career.
By enrolling in a web designing course in Delhi with placement, you can enhance your skills, gain industry exposure, and increase your chances of securing a job in the web design field. Remember to carefully evaluate the curriculum, faculty, placement assistance, and alumni network before making a decision. With the right course, you'll be well-prepared to embark on an exciting career in web design. Don't miss out on the opportunities that await you in Delhi.
I Am Interested To Enroll
Why Choose PICKLES ANIMATION?
PICKLES ANIMATION is one of the Best Campus in Delhi city with a thriving IT industry. As a hub for technology and innovation, it attracts numerous opportunities for web designers. Opting for a web designing course in Delhi can give you an edge in this competitive industry. Not only will you learn the fundamentals of web design, but you'll also have the chance to work on real-life projects and gain practical experience. PICKLES ANIMATION is renowned for its comprehensive web designing courses that provide practical knowledge and hands-on experience. With a strong focus on industry trends, Pickles Animation ensures that its students are equipped with the necessary skills and expertise to thrive in the competitive world of web design.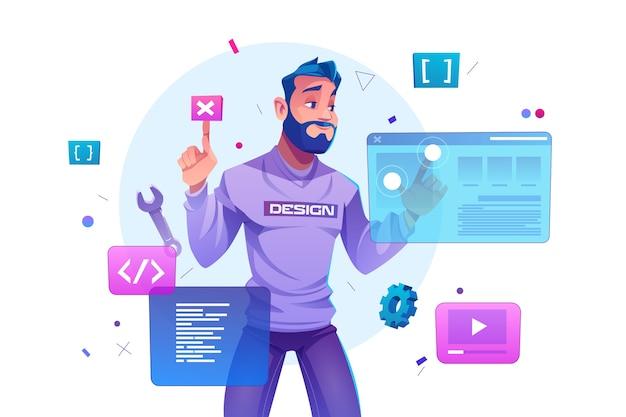 Placement Opportunities at Pickles Animation
Upon completing your web designing course at Pickles Animation, you can expect a wide range of placement opportunities. The institute maintains strong connections with leading web design companies, digital marketing agencies, and IT firms, increasing your chances of securing a fulfilling job placement.
Roles and Responsibilities
As a web designer, your role will be multifaceted, involving various responsibilities. You will be involved in creating visually appealing and user-friendly website layouts, optimizing websites for search engines, ensuring seamless user experiences, and implementing responsive design principles.
Gaining Real-World Experience
Web designing course placements provide an invaluable opportunity for students to apply their theoretical knowledge in a real-world setting. By working on actual projects and collaborating with experienced professionals, students gain hands-on experience, allowing them to hone their skills and build a strong foundation for their careers.
Expanding Professional Network
Course placements also offer students the chance to connect with industry professionals and expand their network. This networking can open doors to future job opportunities, mentorships, and collaborations, giving aspiring web designers a competitive edge in the job market.
Building a Strong Portfolio
A web design course placement provides the perfect platform for students to build a stellar portfolio. By working on diverse projects during their placement, students can showcase their skills, creativity, and problem-solving abilities to potential employers. A strong portfolio is crucial when it comes to landing a job as it demonstrates the candidate's capabilities and sets them apart from other applicants.
Let's Connect with PICKLES ANIMATION, build your career, make great business. We are the largest production house or studio for PHOTOGRAPHY SHOOTS, VIDEOGRAPHY, PRODUCT SHOOT, FASHION SHOOT, WEDDING SHOOTS, CORPORATE SHOOTS, PROMOTIONAL VIDEOS, EXPLAINER VIDEOS AND MANY MORE