When we give the best teaching skills to our students after here the result of the efforts done by each of them.
3D Animation Training in Delhi
Best Animation Training Institute in Delhi
Pickles Professional Courses in Animation
Pickles Professional Certificate in  Animation
Ever wanted to bring your imagination to life? To craft worlds, characters, and stories that leap off the screen? If you've got a creative spark that's crying out for expression, it's time to unleash your inner animator. Lucky for you, Delhi is home to some of the best 3D animation institutes in India. Whether you're looking to break into the industry or take your skills to the next level, animation training in Delhi can teach you everything from modeling and texturing to rigging lighting, and visual effects. To get started with 3D animation, you first need to familiarize yourself with the basic principles. 3D animation is the process of creating moving images in a digital 3D space. The future is unwritten. Your imagination is the only limit. Take that first step now to transform your dreams into a reality. Join the ranks of 3D artists in Delhi and start crafting your new creative journey today. The adventure begins here. What are you waiting for? Join PICKLES ANIMATION NOW.
I Am Interested To Enroll
Why Choose PICKLES ANIMATION?
Pickles Animation
Pickles Animation is one of the most popular choices for 3D animation training. They offer courses for beginners as well as advanced animators in programs like Maya, 3ds Max, and ZBrush. The faculty has years of industry experience and the course curriculum is very hands-on. You'll get plenty of guidance to help build an impressive demo reel by the end.
Pickles Animation is a pioneer in 3D animation education and has trained over 400,000 students worldwide. Their Delhi centers offer diploma and degree programs in 3D animation, VFX, and game design. The Pickles Animation curriculum focuses on developing technical skills as well as soft skills like storytelling and visualization. You'll get to work on live projects and gain experience with the latest animation software and tools.
Pickles Animation is a premier institute for learning 3D animation, VFX, and game design. They offer full-time and part-time courses ranging from 6 months to 2 years. The faculty includes experienced animators and visual effects artists. Pickles Animation's specialized courses in character animation, motion graphics, and Pickles Animation simulation will provide you with focused training to start a career as an animator, modeler, or compositor. With state-of-the-art infrastructure and hands-on training, Pickles Animation is an excellent choice for 3D animation in Delhi.
Career Opportunities After 3D Animation Course
3D Animator
As a 3D animator, you'll create the movement of characters and objects for animation projects. You'll work with directors and producers to determine the best way to bring their creative vision to life on screen. The job outlook is positive, with many major studios and production houses hiring animators.
3D Modeler
3D modelers use software like Maya, 3ds Max, or Blender to create characters, objects, and environments that animators then bring to life. Modelers focus on achieving a high level of realism and detail. If you have an eye for design and technical skills, this can be a rewarding career path. Many 3D modelers work as freelancers, creating assets for animation and VFX studios.
Compositing Artist
Compositing artists seamlessly blend live-action footage and computer-generated images together to create visual effects. Using compositing software like Nuke or Fusion, you'll apply effects like green screen removal, rotoscoping, tracking, and color correction. Compositors work closely with directors and VFX supervisors to achieve the desired look and quality. Jobs are available at major film and TV studios.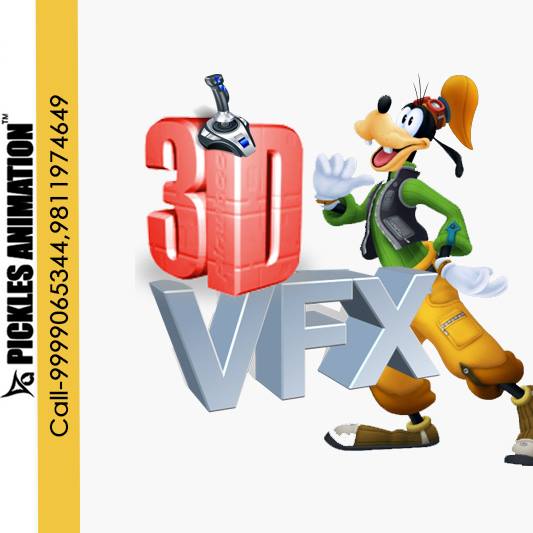 Let's Connect with PICKLES ANIMATION, build your career, make great business. We are the oldest and largest studio for ANIMATIONS, DESIGNING, PRINTING, VFX,PHOTOGRAPHY SHOOTS, VIDEOGRAPHY, PRODUCT SHOOT, FASHION SHOOT, CORPORATE SHOOTS, WEDDING SHOOTS,  PROMOTIONAL VIDEOS, EXPLAINER VIDEOS, PRESENTATIONS AND MUCH MORE